An immersion through maps, geology, history, and numerous testimonies from winegrowers, in the heart of the greatest Burgundian terroirs.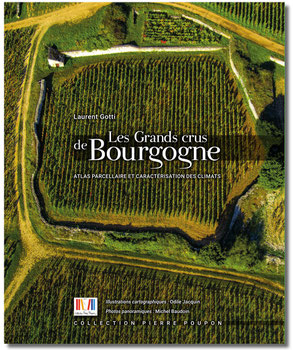 This book dedicated to the grand crus of Burgundy is the culmination of more than 20 years spent in the vineyard.

In addition to the map unpublished of each of the 33 Climats grands crus, allowing the most precise link possible between these terroirs and the winegrowers who interpret them, this work is enriched by the expertise of Françoise Vannier, geologist who has carried out the most advanced studies on the Burgundian climates.

These pages are also embellished with many numerous testimonials from winegrowers who frequent these exceptional terroirs on a day-to-day basis. So much insight that allows us to paint a portrait as complete as it is sensitive to these Climates.

Romanée-Conti, Montrachet, Clos de Vougeot, Chambertin, Corton, etc., the great wines of Burgundy constitute a unique model of terroir viticulture acclaimed throughout the world.

This book gives the keys to understanding why and how exceptional wines have emerged at this precise location on the globe.

An atlas which presents a complete map of the 33 Burgundian grands crus by locating, with the greatest precision, the different places called , the operators of each plot, the surface area that each cultivates.

It also reveals the characteristics: geology, toponymy, exposure, and of course the taste particularities.

A amount of information largely enriched with testimonies from winegrowers who frequent these climates on a daily basis and know better for anyone to restore its singularities.

Never has a work reached such a level of detail on these vineyards.

Author: Laurent Gotti
Cartographic illustrations: Odile Jacquin
Panoramic photos: Michel Baudoin
Number of pages: 288

Dimensions:  22.7 x 27.8 cm
Price: 65 €
Reference: 9782958605933